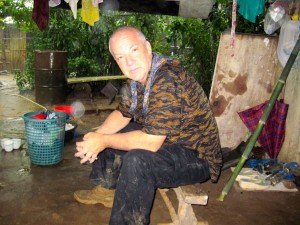 I was lying on my bamboo bed in the cool of the early morning jungle dawn. I was using a damp cotton bed sheet as a blanket, and my reeking pack as a pillow. It was very uncomfortable. The humidity and my wet clothing were conspiring to make comfortable sleep impossible.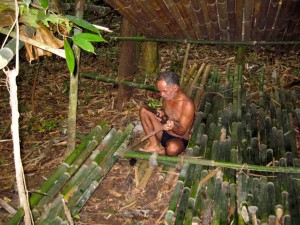 It had been raining all night, I was shivering a bit in my damp clothes and bed sheet. I'm not sure of the time, but it was barely light when I saw my friend and master jungle survival expert Tata Kasoy enter the hut to build a "pire"(fire) and boil water for "Kopi"(coffee). The aroma of coffee and roasted bananas roused me from my uncomfortable bed.
I dug my trusty old Army issue spoon and canteen cup out of my wet pack, slid into my muddy boots and went to the fire to warm up. I am really surprised at how cool it gets in the tropics at night. I had the same experience in the Amazon. The previous morning My Adventure buddy Jungle Wil and I had met our Good friends Miguel and Tata at the trail head near Pamulaklakin.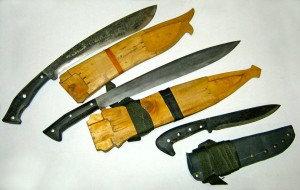 After exchanging gifts and sharing a meal of coffee, sardines and rice cooked in bamboo, I realized that I had forgotten my Bolo knife in Cebu. I traded my mini mag flash light and 6 batteries to the lead forest ranger for an extra bolo of his. It is a cool looking knife with a sheath made from blue PVC plastic. It looks like it was heated, cut to shape then put together with screws. It was a good trade.
I tied it on my belt and we hit the trail. We hiked for several hours into Aeta territory; we entered the hunting area of Antonio, the younger brother of Tata. I had no idea we had entered Antonio's land but suddenly Tata spied a faint trail leading off to the right and said "dis trail my broder". We followed it for a long while then Tata began to shout in Aeta for his brother to let him know we were in his territory.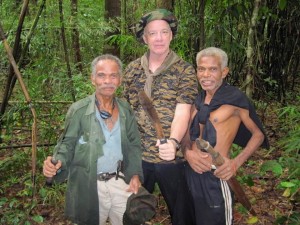 After a search of about 10 minutes we managed to "locate" Antonio. He just materialized from the jungle wearing black clothing and sporting the longest bolo knife relative to body size I had ever seen. We were invited to his Jungle camp for More "Kopi" and BBQ'ed bananas. Antonio's camp consisted of a hut made from a bamboo frame covered by plastic and was basically 2 platforms with a "star fire" in the center. I was pretty surprised to see the "star fire" because that is the same style fire lay the Apaches used in my native Arizona.
I like it at Antonio's camp, and felt comfortable there. I would have enjoyed sleeping there but Tata and Miguel had other plans. After swapping news with Antonio and having a bit to eat we packed up and headed out, due to the amount of rain over the past few days it was important to head up the trail and make a river crossing before it was too strong to do so.
Our Aeta friends said "big water come"(heavy rain) several times so heeding their advice, we shouldered our packs moved out at a fast pace up the trail. The small stature of our Aeta friends belies their speed and agility in the forest, both Jungle Wil and I keep in shape with regular running and mountain biking, but on the jungle trail we had a difficult time keeping up with our guides.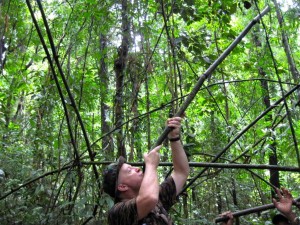 They walk fast but do not miss a single thing like useful plants, animal tracks, or signs of non Aeta in the forest. There is a major problem with Illegal Logging on Aeta lands and these guys mount regular patrols into the jungle to protect their property. We seemed to climb and climb as we headed deeper into the jungle and I cannot recall a single level trail, it was difficult going due to the mud and heavy rain.
Upon reaching the river we made the crossing without a problem but it was evident that the water strength was building and it would soon be impossible to cross. After a hike of several more hours we reached an area of the Aeta territory that was pretty far back in the woods, it was only about 4 pm but it was nearly dark under the jungle canopy. We set about constructing a jungle shelter and covered it with some blue tarps we had brought along.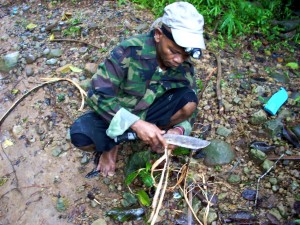 Tata Kasoy and Miguel strung their Duyen (Hammocks as we call them) and set up their rain tarps made from grain sacks sewn together. It was great to see the clever use of available materials and it is interesting to note that Miguel and Tata always wear the Head lamps we gave them even when it is not dark. I asked them about this practice and was told it is so they are always ready.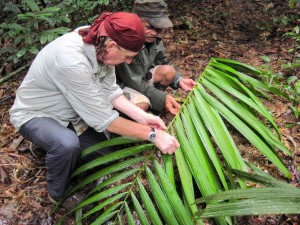 It is a good thing they had the head lamps because by the time we made camp, built a fire and settled in for the evening it was full dark, even though it was only about 5 pm. We had a good evening ,chatting and singing (oldies and Filipino songs) away the hours, dining on corned beef, boiled bananas, bamboo rice, "kopi" and Emperador brandy.
Jungle Wil and I had brought along a spice kit that contained Tabasco, rock salt, garlic, and sugar. It was a big hit as well as the Hands of tobacco we brought along, Miguel rolled cigarettes and smoked away the hours while Tata liked to chew. I chewed a bit of tobacco myself while sipping brandy.
It was excellent to be back in the forest again with my 3 friends enjoying their company. We were drinking and singing while sitting around a small circle of light in a remote forest; it is a scene that has been played out a billion or more times throughout the history of mankind, I'm sure. Being there at that time in that location with my 3 good friends is a memory I will always cherish and I am looking forward to being able to return to the jungle for more adventures.
Thomas Moore AKA Tomahawk is a 16 year veteran of the U.S. Army and National guard. Serving as an Airborne Infantry Scout with the 2/505th Inf, 82nd Airborne Division, the 11th Pathfinder Platoon, Unit Armorer with the 11th ADA in New Mexico, and served as a driver/ dismount (19D) with E troop 118 Cav, Ft. Huachuca, Arizona. He is a U.S. Army parachute rigger and French Commando qualified. In addition Tomahawk has 7 years as a military contractor in the Middle east, Kosovo, Darfur, SE Asia, and Afghanistan working in weapons maintenance (Armorer) and security.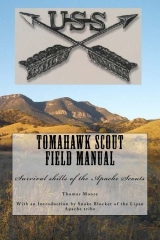 On the Civilian side he is a qualified Montana big game hunting guide and outfitter, A Maine wilderness guide, and has 10 years experience teaching primitive survival skills in Utah. He is also the authot of the Tomahawk scout Field Manual; Survival skills of the Apache Scouts. The Tomahawk scout Field Manual is inspired by the survival and wilderness skills of the U. S. Army Apache scouts who served in the Military until 1947.
"Natural Instinct" – Expedition Philippines is a wilderness expedition based adventure TV show. This show follows Colonel "Tomahawk" with a Native guide and a different companion in each episode as They will travel throughout the Philippines. They will meet Several different indigenous tribes and will demonstrate how to cope with the dangers of wilderness travel. Tomahawk and friends will also learn jungle and sea survival skills from the indigenous tribes they meet. The show will be skills oriented, but also expose the cast members to the many dangers and the stress involved with wilderness travel. This show is a high stakes Adventure series Not a survival show. However we will practice on a daily basis the various survival skills learned from the indigenous tribes we meet. Cast members will face many dangers in the form of animals, storms, natural obstacles, poisonous plants, and the daily stresses of a total wilderness immersion expedition. The wilderness skills, mental toughness and self disipline of Tomahawk and his friends will be severely tested. Cast members will have to face the dangers and deal with the stresses of each new challenge in this high stakes adventure TV show