May 27th – 31st, 2014 – Ancestral Skills for Self-Sufficiency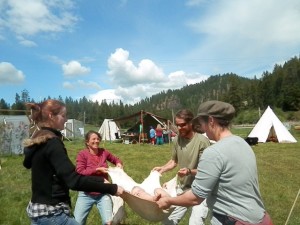 Bridges To The Past are pleased to announce that registration is now open for their spring gathering in Northeast Washington State.  Last year was a great time, and this year, they are ready to do it again!  Instructors are checking in with their planned classes and information is being uploaded to their website HERE on a regular basis to keep you informed.
What is this all about?  Click HERE to find out!
Click HERE for registration.
Questions that aren't answered by the website? Click HERE to contact them; they are happy to assist you!
Now is the time for you and your family to learn the simple skills that will give you the confidence to push ahead in our troubled and complex times.  Your invited you to join us for a week of workshops in primitive skills, group meals and joyful celebration.
Website: www.betweentheriversgathering.com
Contact Email: patrickf@bridgestothepast.org