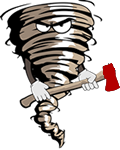 The Land of OZ Bushcraft Group in Kansas will start 2013 with a bang.  This will be as close to "cold" as we can get in Kansas but should be cold enough for me!  🙂
Location will be in the Southeast part of the state in the reclaimed strip mine lands.
History: The property was acquired primarily by donation. The first land donation was received in 1926. The largest acquisition, totaling 8,208 acres was donated by the Pittsburg and Midway Coal Company to the Kansas Department of Wildlife and Parks in 1981.
Description:
The property is 14,500 acres in size, comprised of 1,500 acres of water and 13,000 acres of land. All but 2,000 acres of the property was surface mined for coal during the 1920's through 1974. The property is rugged country dotted with over 1,000 strip-mine lakes, steep-sided hills and dense vegetation. Unmined areas consist of mature bottomland woodland and small crop fields. The strip-mine lakes vary in size from ¼ ace to 50 acres in size with depths to 60 feet.
Some of the activities will include:
Trapping
Hunting
Fishing
Archery
Campcraft
Woodcraft
We are only a small group of about 20-25 members but at it's core is a group of guys that like to get together often.  We hold 2 "Official" gatherings in April and October.  The rest of the year are just small events like this one.
The members are as diverse as their duffle too!  You might just see a tipi next to a hammock!  We are very welcoming and accommodating to many skill levels too.
So stop by if you want!  You're always welcome at our fire!