As a volunteer Naturalist at the Chattahoochee Nature Center in Roswell Georgia, I often incorporate a bit of primitive skills and knowledge into my interpretive hikes. When we walk along the river boardwalk trail, I may point out how the indigenous Cherokee or Creek would have used Black Willow as a headache remedy and materials for friction fire or how they ate the roots of the Arrow Plant as a wintertime ration. From my point of view, I think it helps understand the importance of a wetland or woodland habitat when you understand not only how wildlife lives and thrives in it, but also how man has.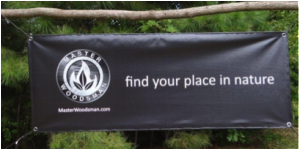 When the Nature Center decided to plan a primitive skills event for their patrons, Curator Rachel Barton asked if I would help demonstrate some of the methods used by the indigenous peoples as well as our ancestors. I reached out to my friends from Master Woodsman and told them what we were doing and a group of four of us came out on September 29th and spent a beautiful Sunday afternoon sharing and demonstrating skills with people from all walks of life.
Dusty Rumley, affectionately known to YouTubers as "IHATCHETJACK" demonstrated primitive fire. Dusty brought a myriad of fire sets for hand drill, bow drill as well as flint and steel and ferro rods. With his easygoing storytelling style, Dusty explained the components of the various friction fire sets, the type of materials used and the method for producing a coal to a captivated audience. Each time he blew a coal into a flame a spontaneous ovation erupted from the folks sitting around his red wool blanket.  There was also opportunities for "hands on" as young scouts and others had a chance to produce sparks with one of the many ferrocerium rods and magnesium bars provided by Master Woodman®.
My good friend Chuck Winchester drove up from Thomasville, Georgia for this event.  Chuck was a Scout Master for 23 years in addition to owning restaurants. His Woodsman Cuisine is renowned in the southeast. Chuck brought out the cast iron and over an open fire cooked beef stew, chili, cornbread, bannock and peach cobbler. In addition to these dishes, he also smoked salmon using willow branches as a grill and placing a canvas tarp over the tripod to capture the smoke. Participants were allowed to sample the food as Chuck explained camp cooking methods such as how to determine the correct amount of coals to properly heat a Dutch oven.
The day's activities also included shelter demonstrations, stone tools, cordage making and two "Beneficial Tree" walks led by Chris Noble.  Participants were taught not only individual trees for food, medicine, and other practical uses; they were also taught "how to learn" how to identify trees.  One person commented to me after she had attended the tree walk how she was going to do the "fatwood candle" on her next family camping trip.
There were people from all different walks of life in attendance. Boy and Girl Scout groups came in to earn merit badges. There were hunters, hikers, paddlers, birders, botanists and even some seasoned woodsmen.
People had a chance to ask questions and there were many discussions about everything from gear, clothing, rations and of course, "what's the best knife to carry…"  At the end of the day the one thing that gave me the most satisfaction was how often I heard someone say "I can't wait to get out in the woods and try this!"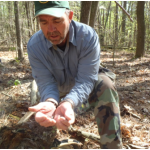 Richard Bell is a volunteer naturalist with the Chattahoochee Nature Center in Roswell Georgia where he and his wife, Carla lead interpretive hikes and coordinate "The Nature Club" at the CNC. Richard is also a volunteer with the Chattahoochee River National Recreation Area working in environmental education and trail maintenance.