Don't Leave Camp With Out These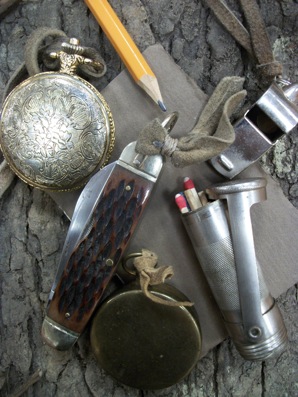 A day hike, a day hunt or the exploratory search for new trout waters… these are the away-from-camp situations in which the hiker most typically winds up lost, or at least "a might confused". A few basic tools will help you get back to camp on your own, or aide others in finding you. All can be carried in the pockets of your pants, shirt or vest. 
Whistle…. For signaling if lost… louder and longer-lasting than your voice.
Knife and Matches (in match safe)… The basic tools for life in the woods. If you are truly lost and you have to stay out overnight, these can make all the difference. They should always be carried.
But, we are talking about getting back… about not getting lost. Is it possible to get "lost proof" (even in unfamiliar country)? Well, no scheme or tool kit is fool proof, but you can greatly increase your chances of getting back with…
Compass, Watch and Notebook… With these three items you can create a patrol map as you wander into new territory. By drawing a simple map as you go… noting distinct landmarks in your path… noting the direction traveled (with compass) and the time taken between landmarks (with watch)… you create a tool that far surpasses your memory or "instinct". Practice this technique before you need it. Woodcraft can trump survival!
Steve Watts directs the Aboriginal Studies Program and the Traditional Outdoor Skills Program at the Schiele Museum of Natural History in Gastonia, North Carolina. Watts is the author of Practicing Primitive: A Handbook of Aboriginal Skills, Gibbs Smith Publishers, 2004.