I know of no better tent for one or two men, doing their own camp work, except for bad mosquito country, or at temperatures lower than 20 below. – Townsend Whelen
In 1901 a young Spanish American War veteran walked out of the Canadian bush.  He was 24 years old, over six feet tall, with a 44 inch chest and a 29 inch waist.  Dressed in a fringed buckskin shirt, jodhpurs, high-top moccasins and a campaign hat, Townsend Whelen was well on his way to establishing his place in the pantheon of great outdoorsmen.  He carried a typically light outfit—an 8×11 ft. tarp, a pair of blankets, a poncho and a set of cooking pots.  He was also packing a .40/72 Winchester rifle and a .30/30 Winchester Model 94 to supply his food larder.
By 1915 he was back in the U.S. Army as a captain with the 29th Infantry Regiment defending the Panama Canal in unmapped country.  Whelen set out to explore the Panamanian jungle whenever time away from his duties allowed—always with a rucksack and a light-weight kit.
Whelen remained in the military until retirement in 1936.  He is perhaps best known today among readers of hunting and military small arms literature. He wrote at least a half a dozen books and was a regular contributor to Field and Stream, Sports Afield, The American Rifleman and Outdoor Life.  Col. Townsend Whelen died in 1961, much loved, it seems, by all who knew him.
Through it all, Whelen camped.  And even though he had experience with about every kind of shelter available to the sport at the time—his choice, again and again was—the tarp.
So it was, that in 1926 he developed what he would call the "Hunter's Lean-to".  The original was made of Abercrombie green waterproof Egyptian cotton.  Soon, it would be made available commercially, marketed as the "Whelen Lean-to".  By 1955, Whelen had spent more than 400 nights in the little tarp—a testimony to its practicality and his fondness for it.
In Praise of the Whelen Lean-to
At first glance, the Whelen Lean-to is reminiscent of a small Baker tent, a Dan Beard tent, or Nessmuk's shanty tent.  But Whelen has made important modifications.
The side walls, instead of being perpendicular, splay outward and forward at the bottom.  Their angle is such that the front end of each of those walls stakes down about two feet outward and two feet forward of where a perpendicular would reach the ground if dropped from the ends of the six-foot tape ridge.  Thus the walls slope at such an angle that they will reflect heat and light into the tent. – TW
Across the front is a small awning, which can be extended at a variety of angles or thrown back completely as a needed.  The tarp can be pitched with a few poles, as many as six poles, suspended from a ridge pole lashed between trees, or simply strung up by ropes to standing trees.
All of these features combine to make the Whelen Lean-to an ideal cool-to-cold weather shelter.   A fire built across the front opening warms the interior yet allows the camper to enjoy contact with the outdoor world into which he has ventured.
Being a fan of open tents in general, I find myself camping in the Whelen Lean-to more than any other shelter.  It has it limitations of course. In the hot buggy season I'll choose a simple fly with a mosquito gauze bar.  In the coldest of weather a closed tent with a wood stove can't be beat. (Whelen's use of his lean-to down to "twenty below" just proves that the old soldier was tougher than I am.)
But, for the majority of the year, and the majority of situations, I find the Whelen almost ideal.
I like the ease and speed with which it can be pitched.  If through bad judgment or a change in the weather, you find the need to change its orientation to the wind—few shelters can be taken down, turned around and set up again as quickly as the Whelen.  And, I have remained snug and dry through rains, snows, high winds and at least one hail storm.
I like the open front company of the campfire's warmth and light radiating into my little lean-to home. The mid-night or early morning pleasure of leaning out of my bedroll to throw another piece of wood or two on the fire, satisfies my own definition of sylvan luxury and romance.
Perhaps one of the most pleasant traditional camp set ups for two outers is two Whelen's pitched with their open fronts facing each other.  Between the two shelters a trench fire is built.  In this way both tents share the heat and, in effect, create a warmed open living/cooking space between them.  With this face-to-face set up, the wind direction should ideally be parallel to the length of the lean-tos.
The Whelen Lean-to is compact and lightweight enough for backpacking.  My own smoked and stained version of the tent packs down to a bundle 8×16 inches, and weighs about 8 pounds (including ropes, storage bag and accumulated grime).
I do from time to time pull in the side wings, which reconfigures the tent into more of a standard lean-to.  While the splayed out sides are part of the genius of Whelen's design, the straight-sides-modification is useful in conditions where blowing sand or rain are invading your sleeping space from the open ends. In bug season/territory it also allows you to hang insect netting straight down from the ridge—filling in the now square-shaped opening.
So, here's thanks to Col. Townsend Whelen.  His example, his legacy and his shelter live on.  His simple approach to camping and "woods loafing" challenge us yet today.
"Most men are needlessly poor all of their lives because they think they must have such a house as their neighbors have" an old woodsman  said more than a century ago. "Consider how slight a shelter is absolutely necessary." – TW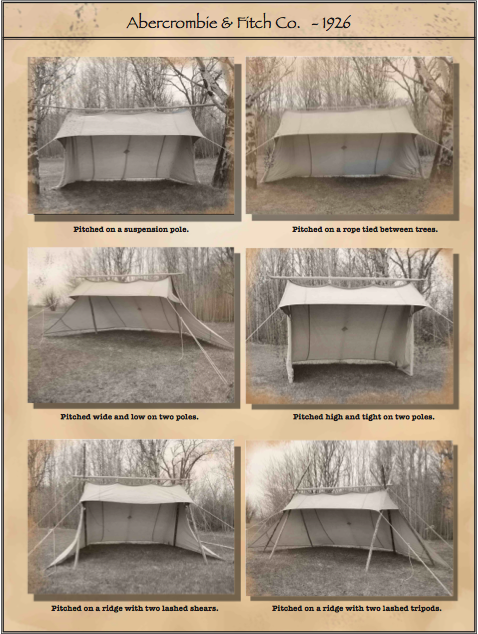 HERE is a great follow-up article on the Origins of the Whelen Lean-To.
Steve Watts directs the Aboriginal Studies Program and the Traditional Outdoor Skills Program at the Schiele Museum of Natural History in Gastonia, North Carolina. Watts is the author of Practicing Primitive: A Handbook of Aboriginal Skills, Gibbs Smith Publishers, 2004.
Join Steve and co-host David Wescott in view of the Tetons in SE Idaho this coming July 2014 at WOODSMOKE!