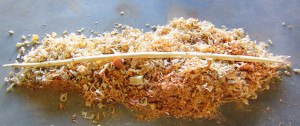 I had the privilege of taking Joe Dabill's Bowmaking course at Rabbitstick 2013.  It was a great opportunity for an absolute beginner like myself to actually go through the steps under Joe's guidance.
We talked at length about Ishi and other influences, wood types, personal preferences, arrow making and more.  It was great to see the fire in his eyes when I brought Ishi up.  If you aren't familiar with the last Yahi, there will be plenty of info at the bottom of this page.
For those that aren't familiar with Joe Dabill, he has made record-breaking bows for some of the hottest archers in America.  In California, the First Nations people have brought him in to teach their children these once forgotten primitive skills.  That is good enough for me!
He has also reproduced Ishi's points, tools, bow, and so much more.  He has built thousands of bows that often perform better than any high end gadget you can find in a modern bow shop.
Joe Dabill is also available to teach other primitive skills like flint knapping, cordage making, pump drills, and more.  Don't hesitate to reach out to him for group or personal training.
If you are interested in the tools used to manufacture these bows, I have prepared a list below:
Hatchet
Splitting wedge
Shinto Rasp
Mora Knife
Chainsaw File
Sandpaper
Bear Grease
Shellac Finish
Flax Fiber
Wax
Brain-tanned Buckskin
For those that are not familiar with Ishi, here is a video and a couple books!
Ishi in Two Worlds
Ishi: Last of His Tribe
If you've made it this far I challenge you to make your very own stick bow.  I have already started on two Bois d'arc staves as soon as I got back from Idaho.
The hardest thing that I didn't touch on in the video is getting your Tillering just right.  I've got plans of making a tillering board but I wanted to point out that Joe did all tillering by eye because he has done it literally thousands of times.  Watch out for those hinges in your bow.  😉
If you found this page or the Joe Dabill video useful, please share it with your friends and drop me a line in the comments section.  Don't be shy!